Bringing the world of endless hot water to the masses.
No Recovery Time, More Efficient Heating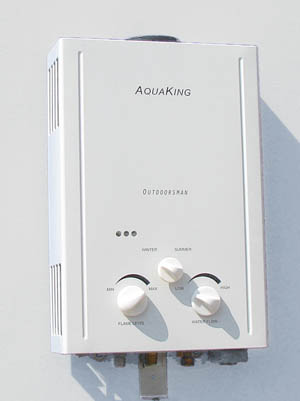 Welcome to AquaKingTankless.com!


Owning a tankless water heater is quickly becoming the norm in the United States as well as around the world, and AquaKing is here to help all users! Upon searching around our site, you will find information to help any tankless water heater user as well as AquaKing specific tech support.
Throughout the next few months, AquaKing will be introducing new models as we build a lineup that will include a heater for every user.
Find your way over to our AquaKing Outdoorsman page to become more familiar with our introductory model! On sale now for only $99.95!! And believe it or not that price includes shipping!

Continue to AquaKing Outdoorsman Page...
Coming Soon.... Whole Home Tankless Water Heaters
AquaKing will soon be introducing whole home tankless water heaters. Propane, Natural Gas, and Electric
quick links:
resources: