Bringing the world of endless hot water to the masses.
No Recovery Time, More Efficient Heating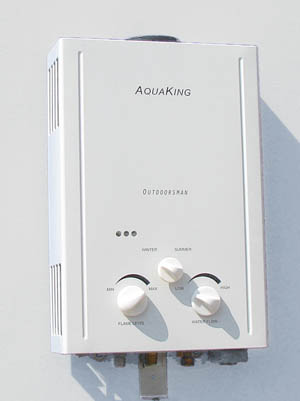 AquaKing Outdoorsman


The AquaKing Outdoorsman was designed to be ultra portable, weighing in at only 10lbs. This water heater can provide hot water anywhere there is a supply of running water and propane. This unit is a huge seller among hunting and fishing enthusiast, as they can have hot water with them to get clean after a long day in the forest or on the lake.
The Outdoorsman is great for RVers as well. It can easily be hooked up to the already existing water connections in the current water heater cabinet(heater can not be installed inside of cabinet), and provide a never ending supply of hot water. This is one heater that will not leave you in the cold after multiple showers.
Don't forget to buy your Propane Regulator and Water Filter - Both items are available on the Accessories Page.
Specs
| | |
| --- | --- |
| Model | AquaKing Outdoorsman |
| rated heat input (BTU) | 15,000 - 42,000 BTUs |
| thermal energy efficiency | 84% |
| connection sizes: Gas - cold water in - hot water out | 1/2 inch USA pipe thread |
| hot water supply (for 45°F tem. rise) (GPM) | 1.6 GPM |
| dimensions | 17" x 12" x 5" |
| minimum input water pressure (PSI) | 10 PSI |
| GAS TYPE | LPG (PROPANE) |
| Voltage(V) | 2 x D-Cell Batteries (not included) |
| G.W./N.W. (lbs.) | (13.4/10.8 lbs.) |
Condensing Whole Home Tankless for under $700
Aquaking Tankless is proud to unvail the Aquaking Trident!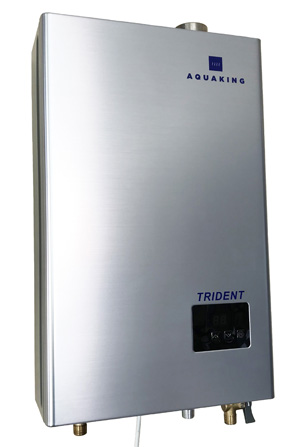 AquaKing Trident Condensing Tankless Water Heater

SOLD OUT
The AquaKing Trident is a ultra High Efficiency tankless water heater with the ability to vent in any direction using Schedule 40 Solid Core PVC Pipe. The Trident is available in Natural Gas or Propane models, and can supply upto a 2 bath home with endless hot water.
The Trident uses condensing technology to allow for the most versitle heater possible. Upto 30ft of venting pipe can be used.
Specs
| | |
| --- | --- |
| Model | AquaKing Trident |
| rated heat input (BTU) | 20,000 - 70,000 BTUs |
| thermal energy efficiency | 94% |
| connection sizes: Gas - cold water in - hot water out | 1/2 inch NPT |
| hot water supply (for 45°F tem. rise) (GPM) | 3.4 GPM |
| dimensions | 17" x 12" x 5" |
| minimum input water pressure (PSI) | 10 PSI |
| GAS TYPE | NG, LPG (PROPANE) |
| Voltage(V) | 110V |
| G.W./N.W. (lbs.) | (34.4/30.8 lbs.) |
quick links:
resources: